What are social media surveys about?
By social media surveys we mean the CAWI surveys who look for respondents on social media such as Facebook, Instagram, Linkedin. These platforms have a good profiling of their subscribers with data such as age, gender, place of residence and more, which they make available to advertisers. This allows us to perform targeted advertising campaigns on these platforms to invite any target (respondents) to participate in online computerized surveys.
When can they be used?
You have a project with a very specific target that is difficult to intercept (e.g. fans of a product or service)? You have to carry out a survey on a small area (e.g. province, municipality, city, etc) which is very difficult to reach via online panel or CATI survey?
An effective alternative could be the use of social media to track down and involve this target in participating in the survey. In fact, nowadays most of the population that has access to the Internet is also present on social networks. Furthermore, social networks are the sites where people often spend most of their time and are therefore available to be interviewed.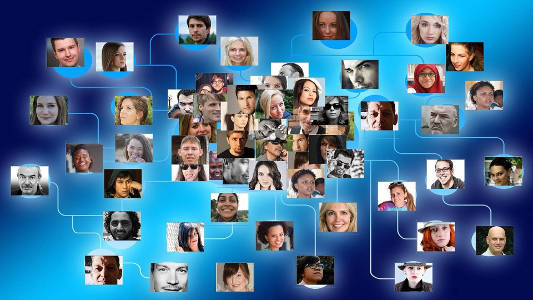 Compared to traditional online panels, social media offers a larger and more varied, albeit more difficult to reach, pool of respondents. However, allowing the target to be profiled also based on the place of residence and interests, they allow you to select the target for niche surveys. Unlike online panels, however, responsiveness varies a lot for each target and is very difficult to predict.
Respondents on Social Media
As already mentioned on the social networks there are ample possibilities for selection and profiling. Facebook, for example, allows you to profile based on age, gender, territory, interests and other demographic characteristics. If combined with a more detailed profiling within the questionnaire, excellent results can be achieved, especially for niche targets.
How does it work?
To start off, we proceed with the programming of the questionnaire and its setup online. Subsequently, a sponsored campaign is created by selecting the survey target based on the basic parameters. For the realization of the campaign it is very important to select and set the right images and texts to have a good response rate.
Often this methodology is used to integrate and support the collection of compilations collected with traditional methodologies (CATI and CAWI). In particular to integrate the answers already collected and reach difficult quotas in some complicated projects.
Benefits
Participation in studies with traditional methods (conventional CATI and CAWI) is constantly decreasing and it is increasingly difficult to find participants. On the other hand, Social Media entertain a large number of people who spend a good part of their time online and are often available to be interviewed.
Additional benefits of social media recruitment are:
Possibility of reaching very profiled, niche targets, difficult to find otherwise
Almost all Internet users have a social media profile
Generally lower costs, thanks to detailed and precise targeting
Voluntary participation increases the quality of responses, incentives not strictly necessary
Need help carrying out a survey on Social Media?